"If there could have ever been a magical time to build an enterprise software company, now is absolutely that time." – Aaron Levie, Box Co-Founder & CEO
When I was writing the first edition of Lean B2B, most of the fastest-growing startups were business to consumer (B2C) businesses, the events and zeitgeist were dominated by consumer startups, and although there were investors focused on B2B, the vast majority of venture capitalists (VCs) were looking for the next big consumer play.
In spite of many large B2B and enterprise startups with high valuations, the startup universe was heavily tilted towards consumer products. It was hard for B2B founders to find mentors that really got it, investors that weren't looking for the consumer play in their business models, and advice that was catered to their unique reality.
This is the world in which the first edition of Lean B2B was released. It wasn't clear that the market would embrace another book based on the Lean Startup methodology, but Lean B2B's first copy was purchased within the first hour of its release, and the book has since gone on to be read and used by thousands of entrepreneurs and innovators all around the world.
Since release, some of the startups covered have become industry-changing successes, while others have perished. In parallel, many readers of Lean B2B have gone on to establish startups that have become market leaders, been acquired, and even turned into billion-dollar companies.
Through the years since, the startup world gradually became more B2B (or at least more B2B and enterprise friendly). There are now major events and communities for B2B founders, many investors, incubators, and accelerators are now solely focused on niches within B2B, and the depth and maturity of the industry as a whole has greatly improved.
Today, it's not unusual to meet founders, consultants, or professionals whose focus has become entirely B2B—something that would have been quite rare in 2014.
B2B entrepreneurship has significantly changed over the years. Through the changes, I've remained steadfast in my belief that the best businesses that entrepreneurs can start are in B2B.
Why the Startup Ecosystem Shifted to B2B
Many of the trends that have made B2B entrepreneurship what it is today had already begun—or were starting to show signs of promise—when I was writing Lean B2B.
The 2007–2008 financial crisis had made investors aware of the risks of having many of their investments wait too long to turn a profit. This led many investors to prioritize companies with business models that could be made sustainable within a shorter time horizon.
Because businesses tend to buy based on value, and invest in new technologies, the path to profitability was often clearer in B2B.
The more B2B and B2C winners got decided, the clearer it became that consumer plays were often winner takes all, while B2B was long tail and could often support multiple winners. In B2B, it's not uncommon for many companies to be addressing the same need for different types of customers or business models.
As this was happening, the cloud continued to make it cheaper and faster to bring new products to market. To be profitable, product businesses no longer had to create large platforms that addressed the full range of customer needs. Suddenly, more focused products were able to gain traction, and new categories of needs became reality.
Because narrow tools had an impact on fewer internal processes and buyers, their purchasing models could be simpler; top-level executives, or the centralized IT functions no longer needed to get involved. Austin Petersmith, Racket.com's founder and CEO, explains:
"When it cost tens of millions just to get to market, products needed to cover a relatively wide offering in order to justify big prices and long contracts. Today, you can build a billion dollar business selling into the enterprise at $5 or $7 or $11 per user per month. With more companies covering narrow solution spaces, there's room for more products on the market."
The new efficiencies in technologies, purchasing models, and distribution strategies led to a multiplication of opportunities. This in turn led to more product categories being created. More people could create products, and more teams and departments were willing to buy and use those products.
These narrower products began to find success and get acquired, the industry learned. Suddenly, many entrepreneurs could use their unique domain expertises to create new products.
These trends evolved and were reinforced. As the industry matured, the emphasis slowly shifted more and more to B2B.
Where We Stand Today
Today, companies are constantly buying new products. The case for the value of new technology products no longer needs to be made.
Departments have largely shifted their core product platforms to the cloud. Software now enters organizations top-down, middle-out, and bottom-up. More teams and managers have control over their budgets, and the choice of the products they use.
Influenced by their experiences with consumer apps, business users have come to expect the same quality of user experiences in B2B. They've become savvier, now doing most of their shopping before engaging with an organization's sales staff, or even its website. With more options and power in the hands of buyers, products now get hired, and fired faster than ever.
As a result, Symantec reports that, between free trials and paid uses, enterprises use an average of 1,516 cloud apps. To control this explosion, buyers are increasingly turning to referrals to guide their searches, and the role of corporate sourcing (procurement) and spend management software (one more software category!) is increasing. Today, more stakeholders get involved in purchasing processes.
As products have become cheaper and easier to build—with the growth of APIs, the growth of no-code/low-code, open-source software, and even enterprise-ready tooling—minimum viable products (MVPs) can often be assembled without a developer, or a development team.
This has leveled the playing field, and caused an explosion of the types of products available.
Today, category leaders can, and do, come from just about anywhere.
Software spending is growing at 10.5% annually. The opportunities are being multiplied by growth in global markets, the introduction of new enabling technologies, laggard organizations transitioning to new technologies, and significant increases in acquisition multiples.
So, what does this all mean for B2B entrepreneurs and innovators?
The Next 10 Years of Opportunities
"As enterprises become cloud-native and it becomes much easier to plug and play services, best-of-breed products that actually work will win over mediocre products sold by a large salesforce." – Bindu Reddy, Abacus.AI Co-Founder & CEO
Because the barriers to entry have mostly disappeared, it's easier than it has ever been to create new products, to get prospects to try them, and to get them considered by stakeholders in mid- to large-sized organizations.
Now, more than ever, the best products can win.
With so much competition, shifts in opportunities, and competing positionings, the true challenge has moved from building and validating products to gaining adoption in increasingly crowded and fragmented markets.
The updates made to The Lean B2B Methodology presented in the second edition reflect the growing importance of differentiation, rapid value delivery, and market positioning.
Today, new products need to cut through the noise, deliver significant new value, and gain enough momentum quickly to be able to get firmly entrenched on the market before other organizations are able to react. Customers have become less patient and willing to tolerate products that fail to deliver value.
What's New in the Second Edition of Lean B2B
The updates to Lean B2B reflect the growing importance of differentiation, rapid value delivery, and market positioning. More specifically:
The book now dives deeper into organizational decision-making. To create something of value, you can't just throw products at companies You need to get an in-depth understanding of the goals and decision-making processes of stakeholders. The new edition dives deeper in decision-making, and highlights the winning strategies that startups are using to gain initial adoption inside organizations today.
The book also doubles down on the importance of starting by targeting a very specific wedge, creating a can't-miss value proposition, and iterating the value before you attempt to lock on a product or solution.
It's hard to find an opportunity if you're not speaking to the right folks. The new edition adds a ton of strategies to help find the right prospects, and to effectively navigate organizations to learn the right things from the right people.
Rome wasn't built in a day. Creating sustainable adoption inside organizations is an ongoing process. The book adds a lot of content on the iteration process from initial MVP to delivering a product that actually exceeds customer expectations (and is at product/market fit).
Your timeline and resources influence your odds of success. In the new edition, you'll now find dozens of checks and balances to evaluate your progress, offer alternate paths, and evaluate the viability of the venture you're pursuing.
Added are also:
An extra playbook to help service/consulting firms transition into products
An extra chapter for innovation teams inside organizations
Many new tools, frameworks, and case studies
The second edition of Lean B2B is the result of years of research into B2B entrepreneurship.
You can get a sampler of the new edition here, or buy a copy here.
I hope you enjoy this new edition. I really enjoyed revisiting the content of the first edition.
More on the Second Edition of Lean B2B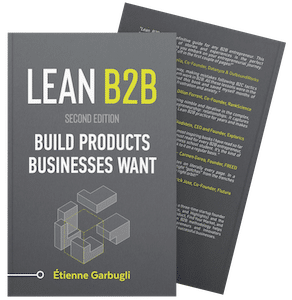 Download the First 4 Chapters Free
Learn the major differences between B2B and B2C customer development, how to think about business ideas, and how to assess a venture's risk in this 70-page sampler.
Working on a B2B Startup?
Learn B2B customer development with our free email course: