Imagine you have come up with an awesome business idea. You need to launch a Minimum Viable Product (MVP) as soon as possible, but you don't have a technical background or access to a software developer. What do you do? The answer is simple: use a no code platform, such as Zapier, Webflow, or Airtable.
First Thing First, What's an MVP?
A Minimum Viable Product (or MVP) is the earliest version of a product with just enough features to start testing. This makes MVPs perfect for lean businesses and startups. MVPs are especially useful in the early stages, enabling you to steer clear of extensive and unnecessary work. Ultimately, it can show you the full potential of your product and give you a better understanding of how the market will react to it.
What's No Code?
No code development platforms enable you to build basic software applications without writing code. They can allow you to create MVPs through graphical user interfaces and configuration, instead of traditional programming. This lets you increase the efficiency of your work, and save money.
Therefore, with no code MVPs, you have not one but two safety nets for your new business.
Why No-Code MVPs Make Sense in B2B
Here are the main reasons why you might want to choose them over coding your MVPs:
Anyone can do it: It's widely considered that it's impossible to launch a tech product without a certain amount of technical knowledge but, in reality, with the help of no code platforms, anyone can do it. Despite the fact that this path is frequently overlooked, more and more founders are starting to realize that they can benefit from no code MVPs.
Less dependence on programmers: Since no code platforms are made to be easy to be used by those who do not know how to code or do not have access to programmers, it allows them to be less reliant on developers. Independence from tech people will give you more control, as you will be in charge of your product from beginning to end. Not knowing exactly how to monitor programmers' work might be exhausting, especially if you do not fully understand their processes.
It allows you to save time and energy: Time and energy are crucial when launching new products. If you go with the traditional way, first of all you will need to find a programmer. Having to search for tech co-founders before figuring out if your product really has legs is time-consuming and requires a lot of energy. After your MVP is launched, however, you need to stay focused on what's most important: feedback from customers.
It allows you to save money: Since you don't need a developer, building no code MVPs will cost you next to nothing. Sidestepping large investments will give you more flexibility. This can be crucial to any new business. Investing a lot of money in something when you don't yet know if it will work can be extremely risky. Low budgets increase the chance of recovering from any failure as swiftly as possible.
It's faster to modify: The whole point of no code MVPs is that they should be easier and faster to iterate and change. Since you have full control, the whole process is way faster. You see what the feedback on your product is and rapidly make the changes you need. Plus you understand your full product, which is even better.
There are plenty of successful B2B startups that have used no code MVPs. From their experience we can clearly see how they can lead to successful market entry.
Examples of No Code MVPs in B2B:
Parabola
Parabola is a productivity tool that is used for e-commerce operations and marketing teams. It stores, organizes, and maximizes data usage. It solves lead scoring and management problems, helps users eliminate any possibility of human error, and saves them time and energy spent on standard procedures like spreadsheets.
One of Parabola's founders, JP Bertram, says that the reason why they went with no code is empowerment. He also states that it increases the productivity of individuals and teams working in the field and that no code is the future of business.
To put everything together, they used Salesforce as their point-of-record system, Apollo for email outreach automation and prospecting, Uberflip for content personalization and distribution, Sigstr for email CTAs and account-based marketing, Hubspot for marketing automation, Sendoso for offline mailing of handwritten notes and other collaterals, LinkedIn for research, and Google Apps for collaboration.
Adepty
Adepty is a platform for solo service providers who want to turn their unique skills into a business. By following simple steps, they can access a wide list of people who might be interested in hiring them. It does not matter whether they're a pro or hobbyist. The best part is that there's no subscription fee. It allows people to be in charge of their own schedule and manage their time just as it suits them.
The founder of Adepty, Ciaran O'Herlihy, says that the enablement through no code tech can be quite easy and cheap and that it has been a major discovery for them.
Weekly.vc
Weekly.vc is a weekly newsletter of requests for pitches from elite angels and VCs. How it works is that the company receives requests from investors for pitches. Pitches may be anything from startups to research. Weekly.vc shares these requests anonymously in a weekly email. If subscribers find them interesting, they respond to the newsletter and their response is forwarded to the investor. If the interest is mutual, they will be introduced to one another.
To build Weekly.vc, the founders used Parabola, Zapier, Airtable, Gmail, Google Sheets, SendGrid, Landen, and Stripe. Matt Henderson, the founder of Weekly.vc, points out that, with no code tools, most products and services can be MVP-ed very quickly, so speed was a key factor.
To Wrap Up
As Chris Wanstrath, former CEO of GitHub puts it, "The future of coding is no coding at all." Realizing how popular no code MVPs are becoming each day, we can certainly say that the future starts now. With a low budget and nearly no risk, you can gather feedback and analyze it yourself. After all, what can be better than being fully in charge?
More on No Code MVPs: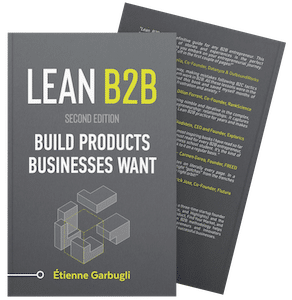 Download the First 4 Chapters Free
Learn the major differences between B2B and B2C customer development, how to think about business ideas, and how to assess a venture's risk in this 70-page sampler.
Working on a B2B Startup?
Learn B2B customer development with our free email course: