The only credibility that is needed is knowing that other customers are satisfied. – Michael Wolfe, Startup Advisor and Investor
In larger companies, often the people you deal with are constrained in what they can do publicly. Even the best-intentioned customers might have their hands tied by legal or marketing constraints.
There are many types of endorsements that can be sought by your team. These may include one or a combination of the following, and you should always push for the highest types of endorsement possible:
The 7 Types of Endorsements
Using the company name and logo on collateral
This is the most common form of endorsement. Simply displaying customer logos on a website helps create social proof — the positive influence created when someone finds out that others are doing the same thing.
Writing a testimony
A personal endorsement from a prominent stakeholder can help establish likeness and increase social proof. Video testimonials typically have more impact than text testimonies and can be interesting to explore.
Publishing a press release about the deal
Press releases help drive momentum for your business. A good PR agency can help get your article republished by other media groups for great exposure.
Writing a blog post or technical paper about the experience
Working with a prospect to explain the reasons why they bought and decided to trust your company shows passion and is a great way to give visibility to your prospect.
Taking a call a month from other prospects
This is the least public form of endorsement. Making a current customer available to answer prospects' questions is a very effective way to build trust and counter objections.
Writing a case study
Case studies are an essential currency in B2B. A well-researched case study can help explain why clients decided to buy and demonstrate the Return on Investment of your solution.
Presenting at a conference or event about the partnership
Presentations are the highest form of endorsement. Not only do they give your company a lot of credibility, they also demonstrate how passionate your customers are about the solution.
As with anything else in business, you need to give something in order to receive something in return. In an upcoming post, you will see a few things that can be put on the line to receive visibility and credibility from your early customers.
More on Endorsements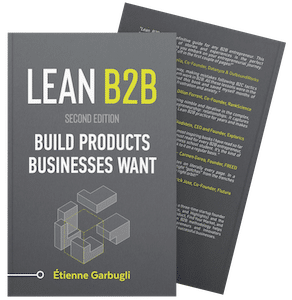 Download the First 4 Chapters Free
Learn the major differences between B2B and B2C customer development, how to think about business ideas, and how to assess a venture's risk in this 70-page sampler.
Working on a B2B Startup?
Learn B2B customer development with our free email course: