The best salesperson is the founder. Others won't have the passion for it. – Bill Aulet, Disciplined Entrepreneurship author and Serial Entrepreneur
There are different types of salespeople. There's a kind that sells a clearly defined product following an established process, and then there's another kind that helps define a product's features, finds a market and creates a compelling value proposition.
That last kind is generally called a missionary salesperson, and at least one member of your founding team should have that skillset. It's critical.
Surrendering customer development or outsource sales to someone you hire that shares none of your ownership for the success or failure of the business is a costly mistake. Your startup will overpay someone to take strategic decisions with none of the risks. This is absolutely not lean.
Members of the founding team must understand the customer negotiation and sales processes. You shouldn't hire a salesperson until those processes can be repeated and scaled.
Don't look for an easy way out of customer development. Sales – be it recruiting, fundraising or selling – are key skills every B2B founding team should master. It's not something you can, or should outsource!
In the early days, the more proximity you can have prospects, the better. Sales are one of the ways to create that proximity.
More on Ways to Outsource Sales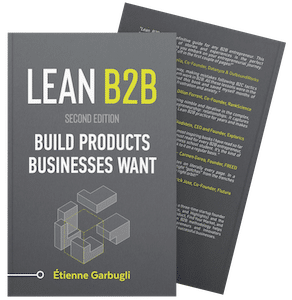 Download the First 4 Chapters Free
Learn the major differences between B2B and B2C customer development, how to think about business ideas, and how to assess a venture's risk in this 70-page sampler.
Working on a B2B Startup?
Learn B2B customer development with our free email course: